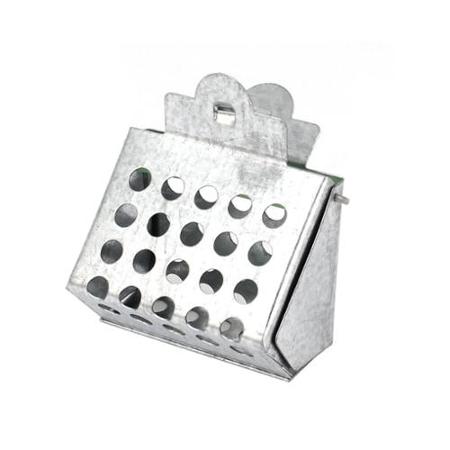 Galvanized Metal Queen Clip
Introducing the Galvanized Metal Queen Clip: The Perfect Tool for Catching Queens!
Are you in need of a reliable and effective way to catch and contain queens? Look no further! The Galvanized Metal Queen Clip is here to assist you in your beekeeping endeavors. Specifically designed for capturing and safely securing queen bees, this clip is an indispensable tool for beekeepers of all experience levels.
Crafted with durable galvanized metal, our Queen Clip ensures the utmost protection and security for your queens. Its sturdy construction guarantees that once the queen is caught, she will remain safely enclosed until you're ready to release or transfer her. No more worries about losing or accidentally harming your precious queen bees!
Using the Galvanized Metal Queen Clip is a breeze. Simply open the clip, carefully place it around the queen, and gently close it, ensuring a snug and secure fit. The clip's design allows for adequate ventilation while keeping the queen securely contained, promoting her well-being during transportation or inspection.
We understand the importance of convenience in your beekeeping routine. The Galvanized Metal Queen Clip is compact and lightweight, making it easy to carry and store in your beekeeping toolbox. Its user-friendly design enables you to quickly and efficiently catch queens without causing unnecessary stress to the colony.
Rest assured that our Queen Clip is built to last. The galvanized metal not only provides exceptional durability but also offers resistance to corrosion, ensuring its longevity even in demanding beekeeping environments. We take pride in delivering a high-quality product that meets the needs of beekeepers like you.
Experience the convenience and reliability of the Galvanized Metal Queen Clip and take your beekeeping to the next level. Catching queens has never been easier or more efficient! Don't miss out on this essential tool that will help you maintain healthy and thriving bee colonies.