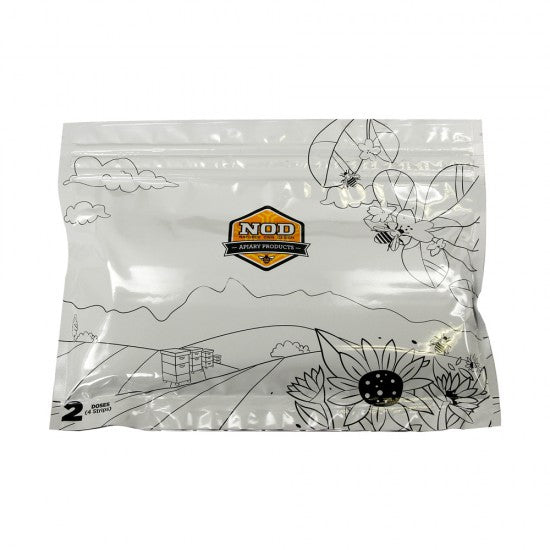 Formic Pro Varroa Mite Treatment for Bees | 2 Treatment Pak
Save

Liquid error (snippets/product-badge line 32): Computation results in '-Infinity'

%
Send Varroa Mites Treatment Packing With These Formic PRO Quick Strips
Features of our Formic Pro Varroa Mite Treatment for Bees:
Formic Pro has an 83-97% efficacy and kills mites under the cap.
Treat during the Honey Flow. Formic Pro leaves no residues in wax or honey.
Formic Pro is ready to use out of the pail. No mixing is required.
Formic Pro is made from all-natural RAW materials.
Formic Pro strips are made from all-natural biodegradable materials and can be composted.
Formic ProThe product has a 24-month (2-year) shelf life.
Use:
Formic PRO Quick Strips are formic acid polysaccharide gel strips for the treatment and control of caused by the varroa destructor in honey bees (Apis mellifera). Working with beekeepers all over the world, this new strip formulation of formic acid not only kills adult Varroa but also kills 95% of the mites under the brood cap. These strips are biodegradable and are ready to use straight out of the pail. They have an 83-97% efficacy rate and do not need to be removed after treatment. There are two treatment options when local thresholds are met:

Option One: 2 strips for 14 days.

Option Two: 1st strip for 10 days; remove and replace with 2nd strip for an additional 10 days. 
If you're looking for further Varroa mite treatment options, check out our ProVap Oxalic Acid Vaporizer and our Apiguard Varroa Mite Treatment.
2 Treatment Pak
Weight 1.75 lbs
Dimensions 10.25 × 9.25 × 2.5 in
10 Treatment Pak
Weight 7.15 lbs
Dimensions 11.6 × 7.5 × 6 in
30 Treatment Pak
Weight 10 lbs
Dimensions 9 × 8 × 6 in