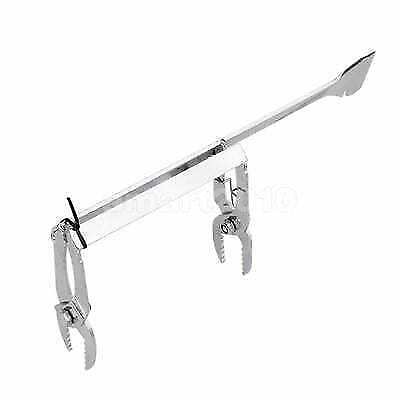 2-In-1 Beehive Frame Lifter (Grip) & Scraper Hive Tool
Double Your Beekeeping Powers With This 2-in-1 Frame Lifter (Grip) & Scraper.
Simplify hive inspections and maintenance with our versatile 2-in-1 Beehive Frame Lifter and Scraper Tool. Designed to make beekeeping tasks easier.
Details about our 2-In-1 Beehive Frame Lifter & Scraper Tool:
Dual-use tool for lifting frames and scraping debris
Made of stainless steel for durability and easy cleaning
Optimized for safety and efficiency in beekeeping tasks
Use:
This 2-in-1 frame lifter & scraper is the perfect tool for a safe, clean, and efficient visit to your beehive. The frame lifter enables you to hoist your frames securely from your brood chamber or honey super. You can then use the scraper to remove caked-on, burr comb, or any other bee-related products, without disturbing your brood. Its stainless steel construction means it's easy to clean and store for the next use.
Make sure to check out our other high-quality tools; we offer top-of-the-range lifters, in Wooden or Metal form, as well as a specialist stainless steel J-Hook Hive Tool.
Specifications:
Weight: 0.6 lbs
Dimensions: 11 × 4.75 × 1.25 in
Upgrade your beekeeping toolkit today! Don't miss out on this essential 2-in-1 Frame Lifter & Scraper, designed to make your beekeeping tasks easier and more efficient. Order Now and elevate your beekeeping experience!