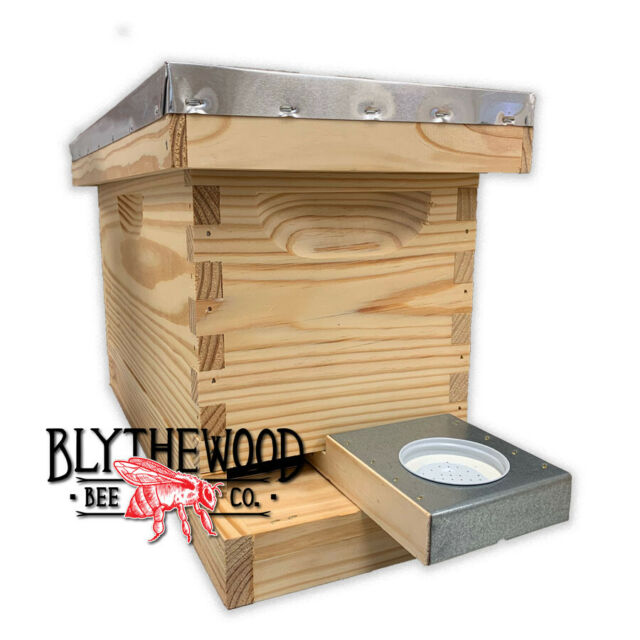 5 Frame Nuc Box Beehives
Save

Liquid error (snippets/product-badge line 32): Computation results in '-Infinity'

%
5 Frame Nuc Box Bee Hives - Includes Frames & Foundation - Assembled
Description
This 5-frame beehive nuc box kit is the perfect kit for starting a new hive. You can use it to raise a captured swarm or a split-off from an existing colony. This kit is made up of the following pieces of equipment, listed from the bottom of the hive to the top:
Screened bottom board
Wooden entrance feeder with lid
5-frame beehive nuc box deep brood chamber
5 Deep Frames with Acorn Plastic Foundation
Inner cover
Telescoping lid
Our 5-Frame Nuc Box Beehive Kit Is The Best Starter Nuc Kit Around
The bottom board is the base of your hive. It supports every other component, so it is important that it's strong and durable. Our solid bottom board is made of high-quality pine wood. The wooden entrance feeder is perfect for feeding your bees during the spring to build them up quickly. This is also a great feeder for summer or early fall, during a shortage of nectar. The brood chamber is where your queen will lay most of her young. All of our brood chambers are made from select-grade yellow pine, meaning they have no knots or defects. The inner cover is insulated and keeps the bees from 'gluing' down the telescoping lid with propolis. Our inner cover is made from yellow pine and plywood. The telescoping lid sits on top of your hive. Its heavy-duty construction protects your hive from the elements.
We use Acorn plastic foundation on our woodenware. It's heavily waxed for better, smoother acceptance by your bees.
Weight 15 lbs
Dimensions 20 × 20 × 12 in