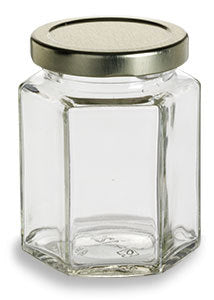 6 oz Hexagon Jars - 12 Count Case - Lids Included
These 6 oz. Hex Glass Honey Jars Are Our Biggest Hex-shaped Storage Containers
Features:
Strong, durable glass
Hexagon shape
Includes twist cap with space for custom labels
Use of

6 oz Hexagon Jars - 12 Count Case

:
These 6 oz. hex glass honey jars are perfect for storing honey, in addition to your favorite condiments and spreads, including jams, jelly crystals, candy and salt. They also make great containers for candles if you want to make your own. They include easy-to-use twist caps that will ensure whatever you store inside stays fresh and secure. The wide opening makes it easy to collect and scoop out whatever is inside. One thing to note: it's best to use 1-inch round labels if you want to stick your own custom labels on the lids. These jars are sold in 12-count cases. If you need smaller hex-shaped containers, check out our 2 oz. hex glass honey jars and our 4 oz. hex glass honey jars.
[tab]
Weight 4.5 lbs
Dimensions 11.5 × 7.75 × 4 in