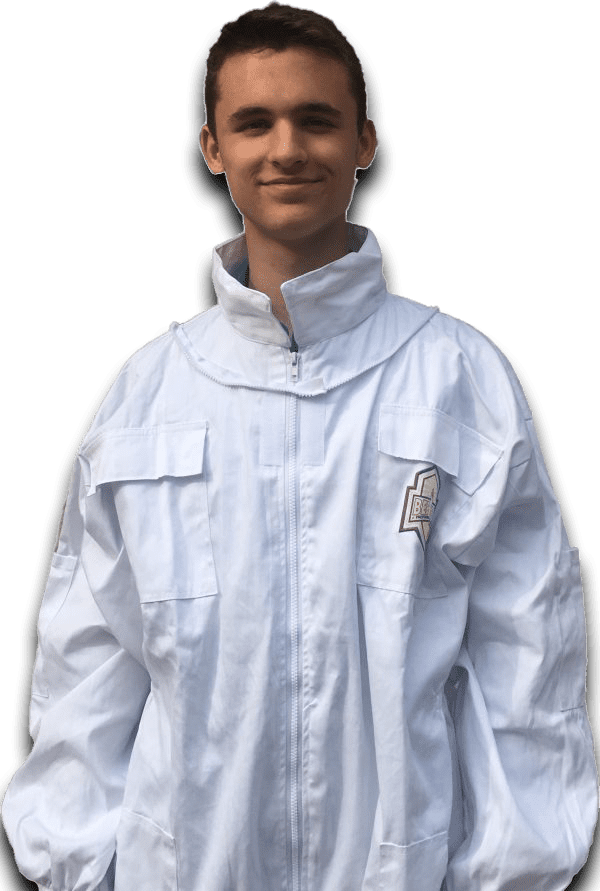 Bee Shield Beekeeping Suits - Cotton
Save

Liquid error (snippets/product-badge line 32): Computation results in '-Infinity'

%
Keep Yourself Protected With Beeshield Beekeeping Suits
Features:
Machine washable
Sizes XS – 10XL
Official Bee Shield apparel
Detachable hood
Use:
Bee Shield Beekeeping Suits are perfect for protecting you from the stings that come from spending hours around a beehive. These beekeeping suits are made from a durable hard-wearing material that will keep you protected during those long days in your bee yard.
Bee Shield Protective Beekeeping Apparel has been tried and tested in some of the roughest bee yards in the US. It has been found to be truly durable and long-lasting with superior protective capabilities from bee stings. These suits have been used by beekeepers as well as bee removal experts who are hard on their protective clothing.
These suits are machine washable. The suit and hood should be separated and washed on a gentle cycle. Make sure to choose your size at checkout. We recommend ordering at least one size larger than you typically wear, so as to allow for movement and flexibility as you work.
We also sell Bee Shield Beekeeping Jackets and Cool Shield Beekeeping Suits.
[tab]
X-Small
Weight 2.5 lbs
Dimensions 13.5 × 12.5 × 2 in
Small
Weight 2.5 lbs
Dimensions 13.5 × 12.5 × 2 in
Medium
Weight 2.6 lbs
Dimensions 14 × 12.5 × 2 in
Large
Weight 2.6 lbs
Dimensions 14 × 12.75 × 2 in
X-Large
Weight 2.5 lbs
Dimensions 12 × 12 × 1 in
2X-Large
Weight 2.5 lbs
Dimensions 12 × 12 × 1 in
3X-Large
Weight 2.8 lbs
Dimensions 14 × 13.5 × 3 in
4X-Large
Weight 3.1 lbs
Dimensions 14 × 13.5 × 2 in
5X-Large
Weight 3.3 lbs
Dimensions 18 × 17 × 2.75 in
6X-Large
Weight 3.4 lbs
Dimensions 18 × 14.75 × 2 in
7X-Large
Weight 3.5 lbs
Dimensions 18 × 16 × 2 in
8X-Large
Weight 3.5 lbs
Dimensions 18 × 14.5 × 2 in
9X-Large
Weight 3.7 lbs
Dimensions 18 × 16 × 2 in
10X-Large
Weight 3.8 lbs
Dimensions 18 × 16 × 2 in