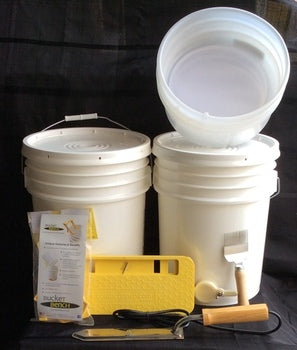 Deluxe Honey Harvesting Kit
Take Your Honey Production To The Next Level With This Deluxe Honey Harvesting Kit
Ramp up your honey production with our deluxe honey harvesting kit. This kit has everything you need to produce some delicious raw honey. The kit is made up of the following components:
Standard food grade 5-gallon bucket
Food grade 5-gallon bucket with gate valve
Bucket bench pail holder
Comb capper
Electric uncapping knife
Uncapping fork
Triple filtering strainer
Our 5-gallon bucket is great for honey storage prior to bottling. It has a handle, making it easy to transport, and a wide lid that will help you avoid any spillages. Our 5-gallon bucket with gate valve has a built-in valve designed for controlled honey transfer. The gate is adjustable so you can control the flow of the honey. The bucket bench pail holder is designed for bucket-to-bucket liquid transfer. It's perfect for transferring honey from one bucket to another. It can be used with 2-, 3.5-, 5-, and 6-gallon pails. Our combcapper is designed for removing honeycomb cappings from their frames. It's a great tool for anyone uncapping a large amount honeycomb. The electric uncapping knife comes with a thermostat attached and five different heat settings. This is a great tool for uncapping honeycomb in bulk. The uncapping fork is specially designed for those hard-to-reach nooks and crannies that you can't get at with your knife. Our triple filtering strainer will enable you to remove even the finest of particles, leaving you with only the purest raw honey.
If you're just starting out and looking for something more cost-effective, check out our honey harvesting starter kit.
[tab]
Weight 10 lbs
Dimensions 13 × 13 × 16 in