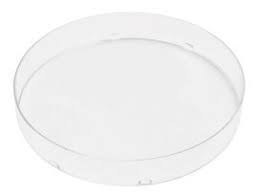 Ross Round Crystal Hive Frame Cover | Blythewood Bee Co
Unveil the Beauty of Your Comb Honey with Transparent Ross Round Crystal Covers
Features of our Ross Round Crystal Hive Frame Cover:
Compatible with the Ross Round Comb Honey Kit
Forms an airtight seal preventing any leaks
Can serve as both the top and bottom lids
Use:
Enhance your Ross Round Comb Honey Kit production with these Ross Round Crystal Covers. They create a complete seal around the Ross Round Rings, ensuring none of the precious comb honey leaks out. Unlike the Ross Round Opaque Covers, these crystal covers are transparent, allowing your magnificent comb honey to be fully visible. While some beekeepers prefer opaque covers at the bottom, using Ross Round Crystal Covers at the top can showcase your honey in all its glory. These covers are sold in sets of 100.
Additionally, we also offer Ross Round Yellow Honey Labels, an excellent choice if you'd rather save the hassle of designing labels yourself.