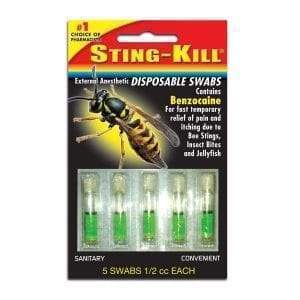 Fear Stings No More With Sting-Kill Disposable Swabs
Features:
Non-greasy and non-staining
Concentrated anesthetic formula
Designed for fast absorption
Use:
Sting-Kill disposable swabs are a handy accessory for anybody who spends time around stinging insects. They are effective on stings and bites from bees, wasps, mosquitoes, jellyfish, chiggers, black flies, fire ants, and spiders. These swabs are convenient to use and provide single-use application to the bite or sting area. Sting-Kill's concentrated anesthetic formula is non-greasy, non-staining, is absorbed fast, and provides safe, effective and prompt relief from pain and itching.
Why not also check out our other new sting-relief product StingEze Max2 and let us know which one you like best.
[tab]
Weight .3 lbs
Dimensions 4 x 3 x 1 in