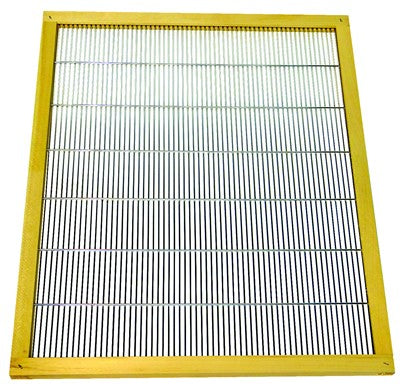 Wood-Trimmed Metal Queen Excluder | 10 and 8 Frame Queen Excluder
Create a Queen-Free Hive Zone with Our Sturdy Wood-Trimmed Metal Best Queen Excluder
Features of our 10 and 8 Frame Queen Excluder:
Robust construction prevents bending and distortion.
Smooth, polished finish
Crafted from welded wire and high-quality pine
Choose 8 Frame or 10 Frame
Use:
Our wood-trimmed metal queen excluder ensures your queen stays separate from your honey super while allowing worker bees to move freely. This top-notch queen excluder stops the queen bee from laying eggs inside the honey super, making honey harvesting a breeze. Designed with bee safety in mind, this hive accessory won't harm bee exoskeletons as they navigate through the different layers of your hive.