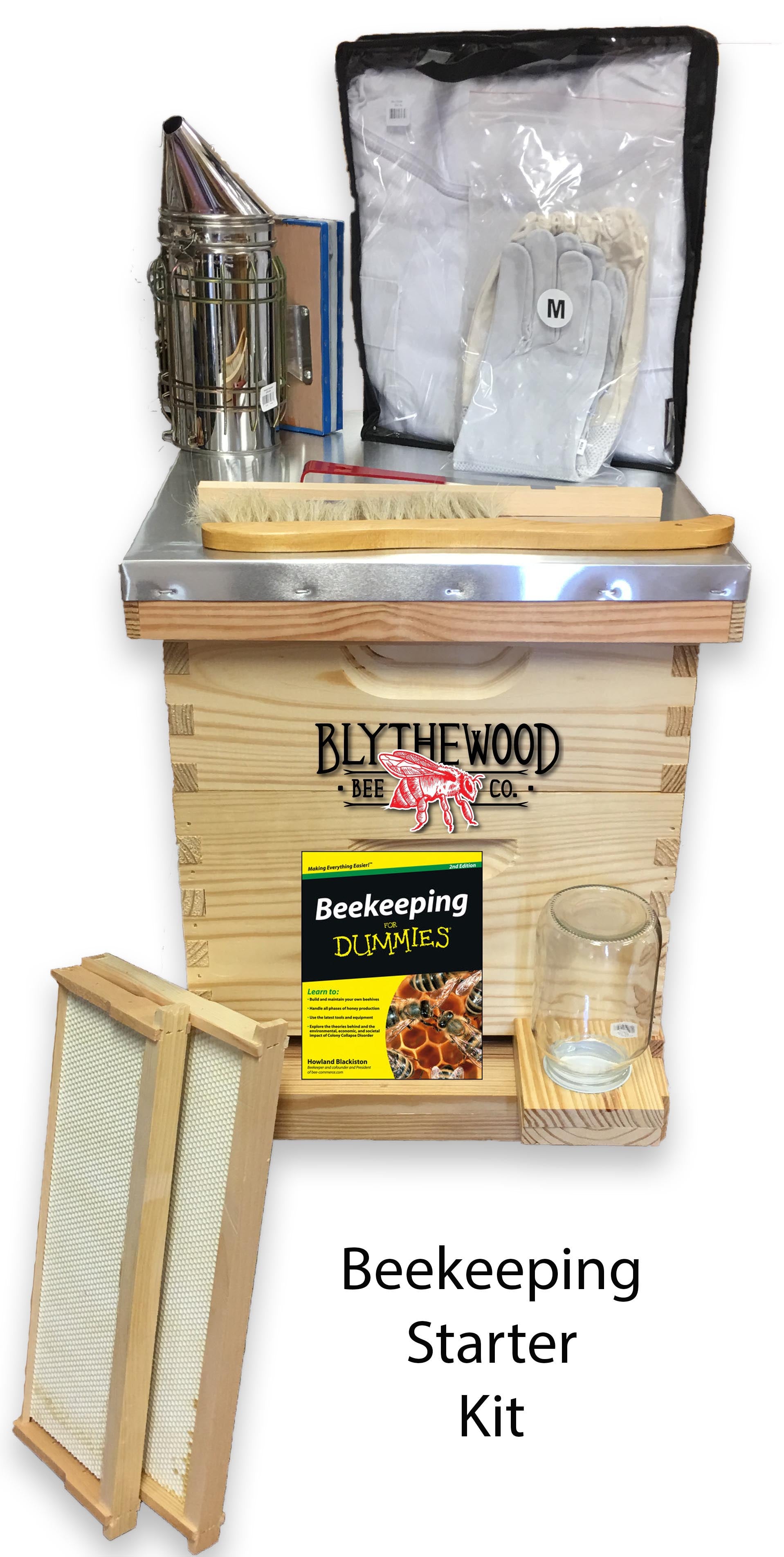 10 Frame Beginner Beekeeping Starter Kit
Save

Liquid error (snippets/product-badge line 32): Computation results in '-Infinity'

%
Description:
This 10-frame beekeeping starter kit comes fully assembled. All you need to do is paint it and add a package of bees. This kit includes the following components, listed from the bottom to the top of the hive:
Features:
Screened bottom board
Wooden entrance feeder (jar not included)
Entrance reducer
Brood chamber
10 deep frames with Acorn plastic foundation
10 medium frames with Acorn plastic foundation
Honey super
Inner cover
Telescoping lid
Small smoker
Steel hive tool
Bee brush
Bee Shield beekeeping jacket
Protective gloves
Beekeeping For Dummies beekeeping book
The screened bottom board is the base of your hive. It holds the brood chamber and honey supers above. The screen in the bottom is for ventilation purposes during the hot summer months. The wooden entrance feeder is great for feeding your bees during the spring to help build them up quickly. It is also a great feeder for a nectar shortage during summer or early fall. The reversible entrance reducer allows you to reduce the size of your hive entrance during the winter and in times when flower nectar is scarce. It also helps to prevent intruders to your hive.
The brood chamber is where your queen will lay most of her young. Our brood chamber is made of select-grade yellow pine and has no knots or defects. Our deep wooden frames and medium wooden frames are select grade and include Acorn's triple-waxed plastic foundation, which is the best in the industry. Your bees will love it, and accept it well. The honey super is where your bees store honey for the winter. It is made of select-grade yellow pine, also.
The inner cover is insulated and keeps the bees from 'gluing' down the telescoping lid with propolis. The inner cover is made from yellow pine and plywood. The telescoping lid sits on top of your hive. Its heavy-duty construction protects your hive from the elements. Our medium smoker is stainless steel with leather bellows. It's easy to light and will give you years of use. Our stainless steel hive tool has many uses, including opening covers, scraping wax and propolis, and lifting frames. It is an extremely versatile tool that makes a great addition to any beekeeping toolbox. Our bee brush can be used to sweep bees gently from frames that you need to inspect.
Our Cool Shield beekeeping jackets are custom-made and come with an attached veil. These jackets are guaranteed to give you years of protection and use. Our elbow-length protective gloves are made of goatskin. They protect your hands from stings while retaining a suppleness that allows you to feel the bees under your hands. The latest edition of Beekeeping For Dummies is a great resource for anyone taking their first steps as a beekeeper.
Make sure to choose a jacket and glove size before purchasing. If you're looking for something a little more advanced, check out our 10-frame Deluxe Beekeeping Expansion Kit instead.