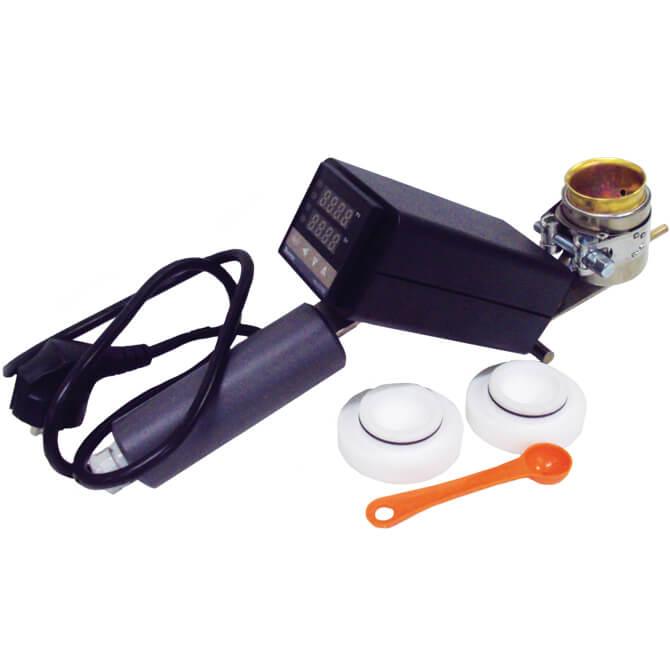 Oxavap Provap 110 Oxalic Acid Vaporizer
Wave Goodbye To Varroa Mites With This ProVap 110 Commercial Oxalic Acid Vaporizer
WE ARE NOT RESPONSIBLE FOR REFUNDS FOR ORDERS FROM FRAUDULENT WEBSITES SUCH AS: 
ORECRD.COM
SALYTP.COM
DEPTEU.COM
WE ARE NOT ASSOCIATED WITH THESE COMPANIES
Features:
SHIPMENT MUST BE SIGNED FOR DURING DELIVERY
Operates On 110v
Takes just 20 seconds per hive
Comes preset
Includes 2 Caps To Hold OA.
Includes OA Scoop For Correct Measurement
Use:
This ProVap 110 Commercial Oxalic Acid Vaporizer will ensure that varroa mites are a thing of the past. This vaporizer is favored by professionals all over the world. It comes preset to the operating temperature of 230 C, which should take roughly two minutes to reach. The red sequence readout will display 230 when ready. Use 1 gram of Oxalic Acid per brood chamber, no matter the size; it mediums or deeps, eight or ten frames. Use ½ gram on a Once the vaporizer is operational, each hive should take only 20 seconds to complete, making this the most efficient vaporizer on the those of you with serious varroa mite infestations, we also sell  checkers,  counters, varroa mite away strips, and oxalic acid wood bleach.
[tab]
Weight 4 lbs
Dimensions 13.25 × 10 × 4 in