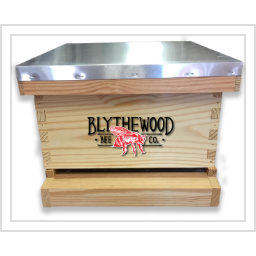 10 Frame Standard Expansion Kit
Save

Liquid error (snippets/product-badge line 32): Computation results in '-Infinity'

%
Product Description:
Get started with beekeeping in no time with our Complete 10-Frame Beekeeping Kit. This cost-effective and comprehensive starter kit comes fully assembled and requires only a package of bees and some paint to get started. The kit includes the following components, listed from bottom to top of the hive:
Screened bottom board
Reversible entrance reducer
Deep brood chamber
10 deep frames with Acorn plastic foundation
Insulated inner cover
Telescoping lid
The screened bottom board serves as the base of the hive and supports the brood chamber and super, while providing ventilation during hot summer months. The reversible entrance reducer allows you to adjust the hive entrance size to protect against intruders and regulate temperature during winter and nectar scarcity. The deep brood chamber, made of select-grade yellow pine, provides ample space for your queen to lay her eggs. The deep wooden frames are also select grade and come with Acorn's triple-waxed plastic foundation, which is highly accepted by bees for building honeycomb.
The insulated inner cover keeps the bees from gluing the telescoping lid with propolis, while the telescoping lid provides protection against the elements. Whether you're a beginner or experienced beekeeper, this kit is the perfect choice for a successful start to beekeeping.
Features:
Comprehensive and cost-effective starter kit for beekeeping
Fully assembled and ready to use
Includes screened bottom board, reversible entrance reducer, deep brood chamber, 10 deep frames with Acorn plastic foundation, insulated inner cover, and telescoping lid
Provides ample space for your queen to lay eggs
Insulated inner cover and telescoping lid protect hive from the elements
Weight 40 lbs
Dimensions 25 × 20 × 10 in