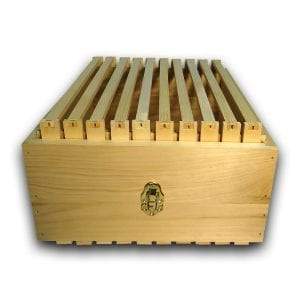 Features:

Fits shallow, medium, and deep frames
Ensures true 90° frames
Saves time and space
Make Your Life Easier: Beekeeping Frame Nailing Jig
Using this high-quality beekeeping frame nailing jig, you can assemble up to 10 frames at a time. This time-saving tool fits shallow, medium, and deep frames. It will ensure that your frames are square and true during assembly, producing only perfect 90° frames. This all-in-one jig allows you to drastically cut down on equipment, meaning you save space as well as time. Make your life easier, and get a jump start on your preparation with this durable frame nailing jig.
This jig works great with our unassembled Langstroth beehive frames, which are available in shallow, medium, and deep. If you're looking for other tools and accessories for your arsenal, check out our ever-popular multi-use hive tool.
[tab]
Weight 8 lbs
Dimensions 21 x 19 x 6 in