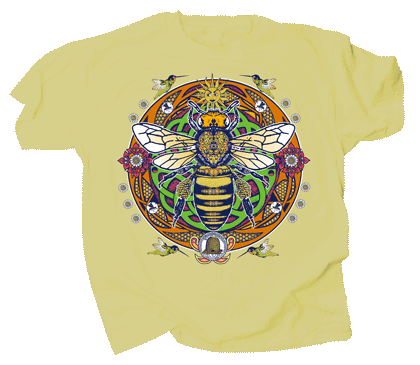 Queen Bee Hex Design T-Shirt | Blythewood Bee Co.
Show Your Love for Beekeeping With This Queen Bee Hex Design T-shirt
Features:
100% Preshrunk Cotton
Colorful, unique design
Comfortable, durable material
Available in sizes for everyone
BBC Logo On Sleeve
Use:
This queen bee hex design t-shirt is the perfect way to show your interest and appreciation for beekeeping. The color, "old gold," is based on the classic tones of honeybees, beehives and honey. It depicts a queen honey bee surrounded by a colorful hex background that includes other elements, such as hummingbirds, bees, a bee skep, honeycomb and many other bee-related icons. This t-shirt also makes the perfect gift for the beekeeper in your life. It's available in five sizes, including small, medium, large, extra large and double extra large. We carry a limited supply, so place your order now. If you're looking for other beekeeping apparel, check out our honeybees on honeycomb t-shirt design and our swarm commander t-shirt design. We also sell t-shirts with the Blythewood Bee Company logo.
[tab]
Weight .4 lbs
Dimensions 10 x 11 .5 inch