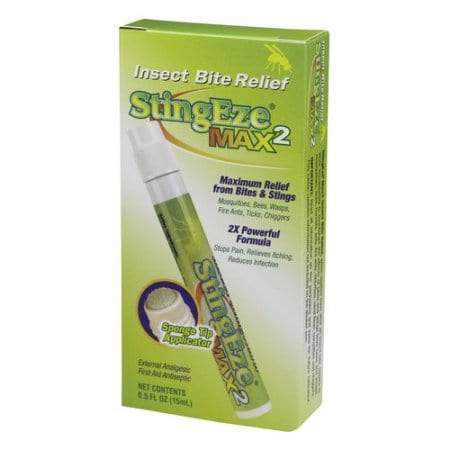 StingEze Max2 Sting Relief Provides Instant Respite From Insect Bites And Stings
Features:
Ammonia free
0.5oz dauber
Triple-action formula
Stingeze Max2 gives Instant relief from insect bites and stings.
Use:
StingEze Max2 Sting Relief instantly alleviates insect bites and stings. Some sting-relief products dry out your skin and promote growth of bacteria, but StingEze Max2 is ammonia free, which means it's gentle on your skin. The active ingredient in StingEze is Benzocaine; a milder, more effective alternative to ammonia. It is commonly used in a variety of other skin care products like sunscreens and anti-itch creams. In addition to Benzocaine, StingEze also contains Phenol, Camphor, and Propylene Glycol. These ingredients combine to create a highly effective insect bite relief product that stops the pain, relieves itching, and reduces swelling; all without irritating your skin. When using StingEze, apply liberally to the bite area while massaging with the sponge dauber applicator.
Why not also check out our other new sting-relief product Sting-Kill Disposable Swabs and let us know which one works best for you.
[tab]
Weight 3 lbs
Dimensions 6 × 4 × 1 in