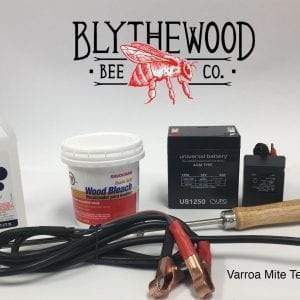 Features :
No-Varroa Oxalic Acid Vaporizer With Cables
Vaporizer Features Solid Metal Acid Tray
12 Volt 5 Amp Battery For Vaporizing
Recharge Adapter For 12 Volt Battery
Double Jar Mite Wash With Instructions For Testing
16oz Isopropyl Alcohol 91%
12 Ounces Of Oxalic Acid Wood Bleach With Measuring Spoon
Use:
This kit is exactly what you need to test and vaporize your beehives for Varroa Mites. Instruction is included for both the testing and treatment of your hives. Don't be intimidated by the Oxalic Acid Vaporization of your hives. It's easy and this kit makes it easy for us to carry out. Don't ignore the importance of testing your hives prior to treatment. Treat your hives only if needed.
Wear appropriate protective gear when vaporizing your hives.
[tab]
Weight 7 lbs
Dimensions 24 x 6 x 6