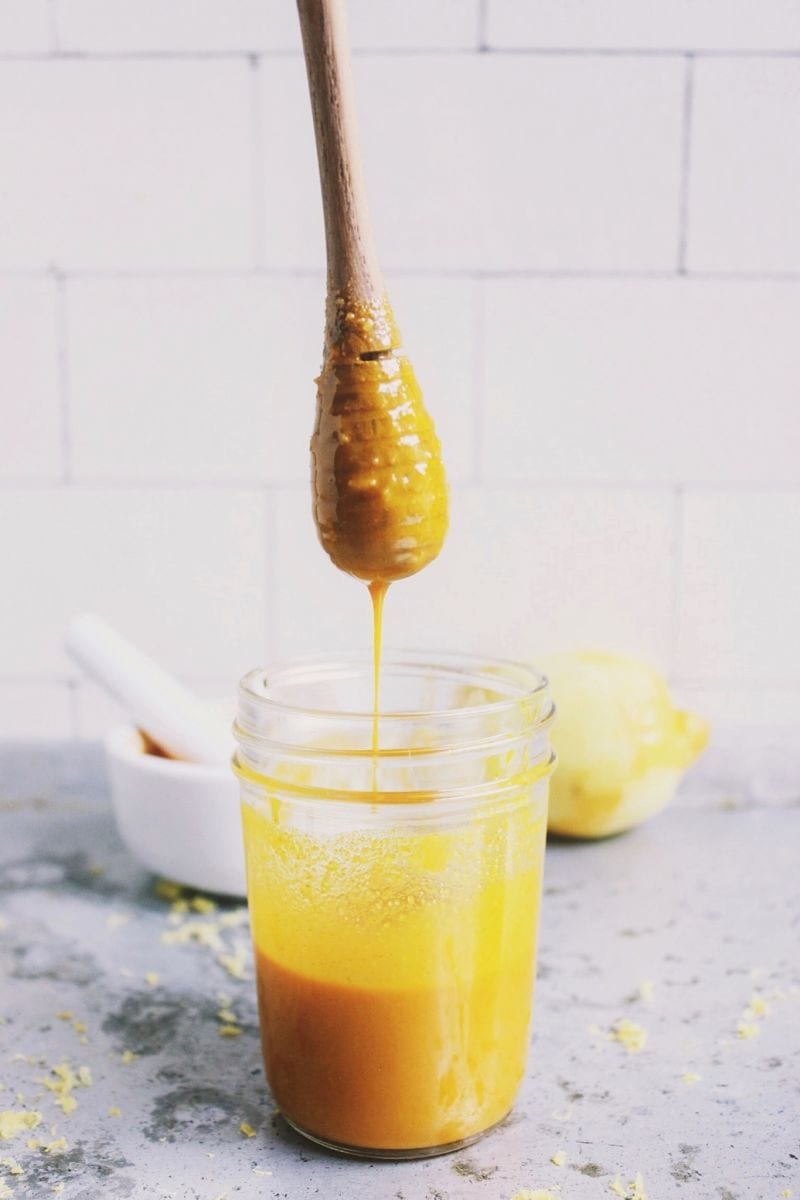 Turmeric and Honey Antibiotic Super Booster for Seasonal Allergy Relief

Soon all the snow will be gone, the ice will have melted and spring will begin to show itself. The grass will turn green again, daffodils and tulips and flowering trees will bless us with their beauty. Vibrant new buds will be popping up everywhere and they'll be bursting with fragrant smells and – pollen. Oh yes, seasonal allergies will be heading our way too. And, the only thing worse than seasonal allergies themselves is taking toxic medications to help cope with them.
So this turmeric honey super booster is a total game changer – at least for my husband that is. I've been lucky enough to live and move all over the country – from the Northeast to the Mid-Atlantic and the Rocky Mountains. And thankfully I am not a seasonal allergy sufferer. But come each spring and early summer my husband has a crazy flare up with each time we move to a new location. I make him this wonderful tonic of turmeric and honey and apple cider vinegar and lemon.
These superfoods are full of anti-inflammatory properties. So it's extra calming, soothing and works like a charm. I really love this super booster because it is so versatile. You can shoot it down the hatch or you can mix a tablespoon into your green smoothie. It's also really delicious and beautiful as a golden spread on toast or on a baked good. Start consuming this a few weeks before your allergies hit, it's best used as a preventive remedy.
Turmeric Honey Super Booster Recipe:
Notes: this super booster takes only 5 minutes to whip up and will yield about 1/2 cup. You can store it in an airtight container in the refrigerator for about a week, maybe more.
Ingredients:
1 tablespoon ground turmeric
3 tablespoons raw unfiltered apple cider vinegar
1 lemon, juice and zest
3 – 4 tablespoons local raw honey
Whisk your ground turmeric in a small mixing bowl or grind lightly with a mortar and pestle to loosen clumps, and smooth into a fine powder.Next add in the apple cider vinegar, lemon juice, zest and honey, and stir until smooth.Consume as a warm tonic, by mixing 1 tablespoon into a large mug of warm water. Or on top of toast or baked good as a topping. Add a tablespoon or two into your green smoothie or blend it into your smoothie.
DISCLAIMER: these statements have not been evaluated by the Food and Drug Administration. This product is not intended to diagnose, treat, cure or prevent any disease.
Source: Turmeric Honey Super Booster for seasonal allergy support! – With Food + Love